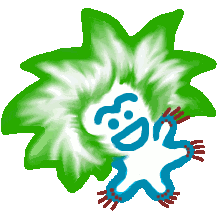 I've been composing music since 2002, when I discovered that I could plug my dad's CZ101 into my computer and record things in Jazz++ and render them using TiMidity. Since then I moved on to using Propellerhead Reason 2 and 3, Ableton Live, 9, 10, and 11, and recently Reason 11, VCV Rack, and, increasingly, my own custom-built plugins and tools.
Most of my tracks are in a sort of artsy slowed down trancy style influenced primarily by nothing in particular, and secondarily by Underworld, Nine Inch Nails, Way Out West, and assorted video game music. More recently I've noticed similarities between my style and that of some of Deadmau5's more experimental stuff, probably because we both like polymeters, catchy chords, fresh beats, and futuristic carnival vibes.
If you want machine-readable data, including SHA-1 URNs, check out music.txt.
You can download and distribute my music under the by-nc-sa CC license, or otherwise with permission.
You can buy TOGoS shirts from Zazzle: a spensive (dark), cheaper (light color), cheapest (white)
Various subsets of my songs have been uploaded to YouTube, Archive.org, Bandcamp, SoundCloud, and Spotify.
Tracks
You can also play all these tracks in Playlister.
Title
Released
Length
BPM
Files
Smoke The 2306 Filter

(1.10.3)

2023-06-11
3:14
120
Flac | MP3 | Ogg
Waterflame 2304

(1.3)

2023-04-22
2:30
120
Flac | MP3 | Ogg
Mulker 22

(version 'iaa')

2023-04-15
11:52
120
Flac | MP3 192 | Ogg
Drift 2303

(2.6)

2023-04-06
3:20
120
Flac | Ogg
Chaindrift 2303

(1.0)

2023-04-06
3:28
120
MP3 | Ogg
Pumpsock 2001

(version 'ah')

2023-03-28
2:24
120
Flac | Ogg
The Fantastic Buttless Cigarette 2303

(version 'ae')

2023-03-18
1:20
120
MP3 192 | Ogg
Green Zebra

(version 'ac')

2023-02-18
45
120
MP3
Ekkoaphex 2301

(0.6)

2023-01-30
1:44
120
Flac | MP3
Twelve Step 2141

(version 'aec')

2023-01-16
8:32
Flac | MP3 160
Ice Cream Sandwich 2218

(version 'bmc')

2022-12-24
6:48
120
Flac | MP3 | Ogg
SG-P0002 SuperSaw Demo 2201

(version 'ag')

2022-12-24
3:12
120
Flac | Ogg
RPT 2002

(version 'cg')

2022-12-24
4:16
120
Flac | Ogg
DJ Fresh's Groovy Ride 2212

(version 'ae')

2022-12-18
2:40
120
MP3
Vital 2230

(Selimyz3d)

2022-12-07
30:44
Flac | Ogg
Vital 2230

(aibh, take1)

2022-12-07
12:01
120, 128
Flac | MP3 192 | Ogg
Skunk Leaves 2180

(version 'bkhk')

2022-11-17
8:12
80
Flac | MP3 | Ogg
Bodzinprac 2210

(1.15)

2022-10-23
22:04
120
Ogg
Phangheiser 2021

(0.9)

2022-10-15
4:30
112
Flac | Ogg
Christmas 2020 Mix Part 2

(version 'gq')

2022-09-17
43:47
120, mostly
Flac | MP3 160 | Ogg
Grind 2205

(Fasma mix)

2022-09-14
4:24
120
Flac | MP3
Chain Selector 2205

(Jack Vocals Remix avh)

2022-07-04
8:40
120
Flac | Ogg
Tech Noise 2206

(version 'aa')

2022-06-11
3:12
120
Ogg
Chain Selector 2205

(version 'at')

2022-06-11
8:40
120
Flac | Ogg
TOSTOST 2205

(version 'ac')

2022-05-24
2:08
120
Flac | MP3 | Ogg
Grind 2205

(version 'be')

2022-05-22
4:16
120
Flac | MP3 | Ogg
Summer 2218

(version 'ah')

2022-05-12
3:12
128
Flac | MP3
Vital 2231

(version 'aa')

2022-03-31
3:30
128
Flac | MP3
SG-P20 Demo 2201

(version 'ag')

2022-02-03
3:44
120
Flac | Ogg
SG-P0002 SuperSaw Demo 2201

(version 'af')

2022-01-13
3:12
120
Flac | MP3 192 | Ogg
Goat Fronts 2112

(version 'ao')

2022-01-03
4:56
120
Flac | Ogg
Fadeout 2111

(be-short)

2021-11-20
34:08
120
Flac | MP3
Neptune 2190

(version 'ac')

2021-09-10
1:52
120
Flac | MP3 | Ogg
Let's Try Making A Few Sounds

(version 'ec')

2021-08-15
8:00
128
MP3
Lazy Chords 2180

(version 'ca')

2021-08-06
1:56
120
Flac | MP3
Christmas 2020 Mix Part 2 Mix

(version 'ae')

2021-06-28
1:02:34
Flac | Ogg
Vital 2140

(version 'ag')

2021-03-14
5:20
120
Flac | Ogg
VCV 2137

(session 032, loop version 'ac')

2021-02-26
8:32
120
Flac | Ogg
VCV 2137

(session 023)

2021-02-21
6:40
120.01
Flac
From Somewhere 2138

(version 'ac')

2021-02-20
5:44
120
Flac | Ogg
Singulations 2132

(version 'ad')

2021-02-14
2:00
96
Flac | Ogg
Resonance 2124

(version 'ac')

2021-01-31
2:40
120
Flac | Ogg
Corpus 2122

(version 'ad')

2021-01-30
3:16
120
Flac
Minstr Test 2120

(version 'bl')

2021-01-25
3:46
120
Flac | MP3 192
RPT 2002

(version 'bi')

2021-01-13
4:16
120
Flac | MP3
Larry Wall 2020

(version 'ah')

2021-01-12
5:37
128
Flac | MP3
144 Mix 2101

(version 'ae')

2021-01-09
10:40
144
Flac | MP3
Netwerk 1

(version 'ja')

2021-01-03
2:00
180
Flac | MP3 192 | Reason
Christmas 2020 Mix Part 1

(version 'ai')

2020-12-18
36:18
120
Flac | MP3 192 | Ogg
RVT (Rust VST Demo) 2001

(version 'ab')

2020-12-17
4:04
120
Flac | MP3 192 | Ogg
Dutwe 2

(version 'hg')

2020-12-08
5:04
120
Flac | MP3 192 | Ogg | Reason
A Reasonable Player 2001

(version 'ab')

2020-12-06
16:00
120
Flac | MP3 192 | Reason
Octree Static 2

(version 'ac')

2020-12-06
4:16
120
Flac | MP3 192 | Ogg
Blocko 2001

(version 'agd')

(no drums)

2020-12-04
10:44
120
Flac | MP3 192 | Ogg
Blocko 2001

(version 'agd')

2020-12-04
10:44
120
Flac | MP3 192 | Ogg | Reason
Pumpsock 2001

(version 'ad')

2020-11-19
2:20
120
Flac | MP3
Mau5tek 2002

(version 'cob')

2020-08-17
9:35
125
Flac | MP3 192 | Ogg
Mau5tek 2001

(version 'ac')

2020-04-01
4:48
120
Flac | MP3 192 | Ogg
Mau5tek 1801

(version 'cm')

2019-01-22
8:30
120
Flac | MP3 192 | Ogg
Chilislap 1801

(version 'cb')

2018-09-25
3:25
120
Flac | MP3 192 | Ogg
Glamshot 1701

(version 'ah')

2017-10-06
5:32
120
Flac | MP3 192 | Ogg
Steady Flow

(version 'ab')

2016-08-13
4:54
Flac | MP3 192 | Ogg
Kixstart

(version 'ac')

2016-07-07
3:48
140
Flac | MP3 192 | Ogg
Saturn 1601

(version 'cj')

2016-06-25
10:28
120
Flac | MP3 160 | Ogg
Mental Shortcuts 1602

(version 'cd')

2016-03-06
8:12
100
Flac | MP3 192 | Ogg
Mental Shortcuts 1601

(version 'da')

2016-03-05
8:48
120
Flac | MP3 192 | Ogg
icermx1601

(version 'bb')

2016-02-18
4:09
100
Flac | MP3 192 | Ogg
Narg 46.1
2016-01-29
3:36
80
Flac | MP3 192 | Ogg
Frokis 1601

(version 'bb')

2016-01-26
4:48
140
Flac | MP3 192 | Ogg
Canopy 1501

(version 'aj')

2016-01-22
4:44
120
Flac | MP3 192 | Ogg
Bifurcation 1501

(version 'ac')

2015-11-29
32
120
Flac | MP3 192 | Ogg
Sunday Brunch

(version 'ad')

2015-11-08
5:52
120
Flac | MP3 192 | Ogg
Hanslanpianoman

(version 'af')

2015-10-26
4:31
100
Flac | MP3 192 | Ogg
Swampboat 4

(bd - extra ambience mix)

2015-08-17
8:03
80
Flac | MP3 192
Swampboat 4

(version 'bd')

2015-08-17
8:03
80
Flac | MP3 192
PA Sucks

(version 'cc')

2014-12-16
3:12
100
Flac | MP3 192 | Ogg
Nansand

(version 'ec')

2014-10-26
7:12
120
Flac | MP3 192 | Ogg | Reason
Crabulate

(version 'aa')

2014-09-24
2:56
120
Flac | MP3 192 | Ogg
Outerra 2

(version 'dk')

2014-01-31
12:48
120
Flac | MP3 192 | Ogg | Reason
Decrystalize

(version 'bc')

2014-01-25
4:02
Flac | MP3 192 | Ogg | Reason
Avalost

(version 'bd')

2013-09-12
3:21
100
Flac | MP3 192 | Ogg | Reason
Wenend

(version 'de')

2013-09-09
3:41
140
Flac | MP3 192 | Ogg | Reason
Narg 42.0
2013-09-05
13:38
120
Flac | MP3 192 | Ogg | Reason
Narg 38.1
2013-09-04
12:16
120
Flac | MP3 192 | Ogg | Reason
Fannyknockwrist

(version 'aa')

2013-09-04
1:04
120
Flac | MP3 192 | Ogg | Reason
Raingear

(version 'aeb')

2013-08-09
2:17
120
MP3 192 | Reason
201308051

(version 'eb')

2013-08-05
2:40
120
MP3 192 | Reason
Narg 41.0
2013-06-18
Flac | MP3 192 | Ogg | Reason
J'Hopital 1

(version 'ci')

2013-02-17
Flac | MP3 192 | Ogg | Reason
Narg 40.0
2012-10-26
Flac | MP3 192 | Ogg | Reason
Narg 39.0
2012-09-27
Flac | MP3 192 | Ogg | Reason
Conveyor

(version 'ee')

2012-09-12
Ogg | Reason
With You 5.0
2012-03-26
Flac | MP3 192 | Ogg | Reason
Zako

(version 'b')

2012-03-12
Flac | MP3 192 | Ogg | Reason
Terraform

(version 'cc')

2012-03-01
Flac | MP3 192 | Ogg | Reason
Newkirk

(version 'ei')

2012-03-01
Flac | MP3 192 | Ogg | Reason
Laurie 2

(version 'fe')

2012-02-29
Flac | MP3 192 | Ogg | Reason
Swampboat

(version 'df')

2012-02-25
Flac | MP3 192 | Ogg | Reason
Laurie 2

(ej-fx)

2012-02-17
Flac | MP3 128 | MP3 192 | Ogg | Reason
Parkenlorp

(version 'gbb')

2012-02-09
Flac | MP3 192 | Ogg | Reason
Lazy 1

(version 'ud')

2011-12-20
Flac | MP3 192 | Ogg | Reason
Mulker 54.0
2011-01-26
Flac | MP3 128 | MP3 192 | Ogg | Reason
Narg 37.1
2010-12-29
Flac | MP3 128 | MP3 192 | Ogg | Reason
Mulker 53.0
2010-12-24
Flac | MP3 128 | MP3 192 | Ogg | Reason
Mulker 52.0
2010-12-24
Flac | MP3 128 | MP3 192 | Ogg | Reason
Narg 36.4
2010-07-19
Flac | MP3 128 | MP3 192 | Ogg | Reason
Mulker 51.0
2010-07-16
Flac | MP3 128 | MP3 192 | Ogg | Reason
Mulker 50.0
2010-07-16
Flac | MP3 128 | MP3 192 | Ogg | Reason
Narg 36.3
2010-02-21
MP3 128 | MP3 192 | Ogg | Reason
Mulker 49.0
2010-02-08
MP3 128 | MP3 192 | Ogg | Reason
Song Of Day
2009-12-25
MP3 128 | MP3 192 | Ogg | Reason
Winwint 1

(version 'm')

2009-11-01
Flac | MP3 128 | MP3 192 | Ogg | Reason
Narg 35.1
2009-10-30
MP3 128 | MP3 192 | Ogg | Reason
Narg 34.1
2009-04-11
MP3 128 | MP3 192 | Ogg | Reason
Narg 9.6
2009-02-19
11:22
MP3 128 | MP3 192 | Ogg | Reason
Narg 32.1
2009-02-07
3:52
MP3 128 | MP3 192 | Ogg | Reason
Narg 31.1
2009-02-07
1:42
MP3 128 | MP3 192 | Ogg | Reason
Narg 30.0
2009-02-07
2:24
MP3 128 | MP3 192 | Ogg | Reason
Narg 29.1
2009-02-06
7:44
MP3 128 | MP3 192 | Ogg | Reason
zzo1

(version 'f')

2008-06-26
MP3
Mulker 48.2
2008-05-07
Ogg
Mulker 48.1
2008-04-26
MP3 128 | MP3 192 | Ogg | Reason
Mulker 48.0
2008-04-26
7:12
MP3 128 | MP3 192 | Ogg | Reason
Narg 28.0
2008-03-18
MP3 128 | MP3 192 | Ogg | Reason
Narg 21.2
2007-12-21
5:36
MP3 128 | MP3 192 | Ogg | Reason
Narg 27.1
2007-09-06
6:08
Flac | MP3 128 | MP3 192 | Ogg | Reason
Narg 26.0
2007-08-21
4:12
175
Flac | MP3 128 | MP3 192 | Ogg | Reason
Dance Facory 2006.1
2006-11-13
3:35
Flac | MP3 128 | MP3 192 | Ogg | Reason
Narg 25.1
2006-09-19
4:12
Flac | MP3 128 | MP3 192 | Ogg | Reason
Narg 24.0
2006-09-03
4:02
Flac | MP3 128 | MP3 192 | Ogg | Reason
Narg 23.1
2006-08-11
5:08
Flac | MP3 128 | MP3 192 | Ogg | Reason
Arimanche

(version 'k')

2006-07-30
1:12
Flac | MP3 128 | MP3 192 | Ogg | Reason
Guardian 1.2
2006-07-02
3:20
MP3 192 | Ogg | Reason
Narg 22.2
2006-05-15
7:46
MP3 128 | MP3 192 | Ogg | Reason
Running Back

(version 2)

2006-03-04
3:24
MP3 192 | Ogg | Reason
Mulker 46.2
2005-12-29
4:00
140
MP3 160 | Ogg | Reason
Mulker 44.1
2005-11-29
5:04
120
MP3 160 | Ogg | Reason
Narg 20.0
2005-10-20
3:44
Flac | MP3 160 | MP3 192 | Ogg | Reason
Mulker 43.1
2005-08-14
7:13
133
MP3 160 | Ogg | Reason
2320.0
2005-06-11
4:51
MP3 160 | Reason
Narg 14.2
2005-06-09
7:28
MP3 160 | Reason
Mulker 42.2
2005-04-29
8:56
Flac | MP3 128 | MP3 192 | Ogg | Reason
Perlin 1.0
2005-03-29
4:48
Flac | MP3 192 | Ogg | Reason
Mulker 40.1
2005-03-10
5:06
120
MP3 192 | Reason
Narg 12.0
2005-03-07
MP3 | Reason
Kaleidoscope

(version 'f')

2005-02-23
MP3 160 | Reason
Mulker 39.2
2005-02-20
MP3 160 | Reason
Business Venture

(1.0)

2004-12-16
2:00
120
MP3 | Ogg | Reason
The Cube Song
2004-11-21
4:36
MP3 | Ogg | Reason
Ranger Randy
2004-10-24
4:50
MP3 | Ogg | Reason
You Again

(version 2)

2004-10-02
14:00
120
MP3 | Ogg | Reason
Let's Explore Cells

(version 2)

2004-09-02
MP3 | Ogg | Reason
Mulker 36
2004-08-03
Flac | MP3 | Ogg | Reason
Mulker 35

(beta1)

2004-07-31
MP3 | Ogg | Reason
WalletBreath
2004-05-18
6:58
MP3 | Ogg | Reason
With You

(version 2)

2004-05-16
MP3 | Ogg | Reason
Narg 5

(beta 3)

2004-01-04
11:14
150
Ogg | Reason
Streamy

(beta 4)

2003-12-26
12:00
MP3 | Ogg
Narg 4

(beta 3)

2003-11-28
11:14
120
MP3 | Ogg | Reason
Monkey
2003-08-22
12:24
120
MP3 | Ogg | Reason
Narg 3
2003-07-08
10:10
120
MP3 | Ogg | Reason
Into Moria 22
2003-07-01
16:24
120
MP3 | Ogg | Reason
Narg 2
2003-06-07
8:24
130
MP3 | Ogg | Reason
Into Moria
2003-02-01
7:18
120
MP3 | Ogg | Reason
Mulker 15
2002-11-28
7:17
MP3
Mulker 14

(2.1)

2002-11-28
9:08
MP3
Mulker 14.1
2002-10-14
9:25
MP3
Mulker 12
2002-08-24
8:50
120
MP3 | Ogg
Mulker 13
2002-08-16
4:41
110
MP3 | Ogg
Mulker 9
2002-06-26
9:32
120
MP3
Mulker 10
2002
8:14
120
MP3