TOGoS's Music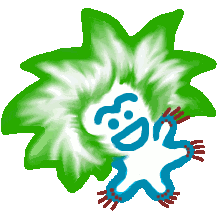 I first started making music sometime in 2002 when I realized that I could hook up my dad's CZ101 to my MIDI in port and record stuff. The first (about 20, many of which were not very good) Mulkers were made by me clicking notes into Jazz++ and rendering my songs using TiMidity with EAWPATS 10/11/12. Starting with a remix of Mulker 21 and Into Moria, I have used Propellerhead's Reason (versions 2 and 3) softsynth/sequencer, sometimes using Audacity for sampling.
Since 2015 I've switched over to Ableton Live 9 (PA Sucks being my 'hello world' track, composed using the Push), which is a great program, but expensive, and I've found it harder to get into the composition flow that I had with Reason.
Most of my tracks are in a sort of artsy slowed down trancy style influenced primarily by nothing in particular, and secondarily by Underworld, Nine Inch Nails, Way Out West, and assorted video game music. More recently I've noticed similarities between my composition style and that of Deadmau5, but it was developed independently.
There's also this metadata file that gives some background info about my tracks and SHA-1 URNs, in case you're into that kind of thing.
You can download and distribute my music under the by-nc-sa CC license, or otherwise with permission.
You can buy TOGoS shirts from Zazzle: a spensive (dark), cheaper (light color), cheapest (white)
Various subsets of my songs have been uploaded to YouTube, Archive.org, SoundCloud, and Spotify.
Trax 4 u
This is not a full listing, but only newer tracks that I've bothered to properly document. I plan to eventually add some of my older work.
You can also play all these tracks in Playlister.
Title
Released
Length
BPM
Files
Mau5tek 2002

(version 'cob')

2020-08-17
9:35
125
Flac | MP3 192 | Ogg
Mau5tek 2001

(version 'ac')

2020-04-01
4:48
120
Flac | MP3 192 | Ogg
Mau5tek 1801

(version 'cm')

2019-01-22
8:30
120
Flac | MP3 192 | Ogg
Chilislap 1801

(version 'cb')

2018-09-25
3:25
120
Flac | MP3 192 | Ogg
Glamshot 1701

(version 'ah')

2017-10-06
5:32
120
Flac | MP3 192 | Ogg
Steady Flow

(version 'ab')

2016-08-13
4:54
Flac | MP3 192 | Ogg
Kixstart

(version 'ac')

2016-07-07
3:48
140
Flac | MP3 192 | Ogg
Saturn 1601

(version 'cj')

2016-06-25
10:28
120
Flac | MP3 160 | Ogg
Mental Shortcuts 1602

(version 'cd')

2016-03-06
8:12
100
Flac | MP3 192 | Ogg
Mental Shortcuts 1601

(version 'da')

2016-03-05
8:48
120
Flac | MP3 192 | Ogg
icermx1601

(version 'bb')

2016-02-18
4:09
100
Flac | MP3 192 | Ogg
Narg 46.1
2016-01-29
3:36
80
Flac | MP3 192 | Ogg
Frokis 1601

(version 'bb')

2016-01-26
4:48
140
Flac | MP3 192 | Ogg
Canopy 1501

(version 'aj')

2016-01-22
4:44
120
Flac | MP3 192 | Ogg
Bifurcation 1501

(version 'ac')

2015-11-29
32
120
Flac | MP3 192 | Ogg
Sunday Brunch

(version 'ad')

2015-11-08
5:52
120
Flac | MP3 192 | Ogg
Hanslanpianoman

(version 'af')

2015-10-26
4:31
100
Flac | MP3 192 | Ogg
Swampboat 4

(bd - extra ambience mix)

2015-08-17
8:03
80
Flac | MP3 192
Swampboat 4

(version 'bd')

2015-08-17
8:03
80
Flac | MP3 192
PA Sucks

(version 'cc')

2014-12-16
3:12
100
Flac | MP3 192 | Ogg
Nansand

(version 'ec')

2014-10-26
7:12
120
Flac | MP3 192 | Ogg | RNS
Crabulate

(version 'aa')

2014-09-24
2:56
120
Flac | MP3 192 | Ogg
Outerra 2

(version 'dk')

2014-01-31
12:48
120
Flac | MP3 192 | Ogg | RNS
Decrystalize

(version 'bc')

2014-01-25
4:02
Flac | MP3 192 | Ogg | RNS
Avalost

(version 'bd')

2013-09-12
3:21
100
Flac | MP3 192 | Ogg | RNS
Wenend

(version 'de')

2013-09-09
3:41
140
Flac | MP3 192 | Ogg | RNS
Narg 42.0
2013-09-05
13:38
120
Flac | MP3 192 | Ogg | RNS
Fannyknockwrist

(version 'aa')

2013-09-04
1:04
120
Flac | MP3 192 | Ogg | RNS
Narg 38.1
2013-09-04
12:16
120
Flac | MP3 192 | Ogg | RNS
Raingear

(version 'aeb')

2013-08-09
2:17
120
MP3 192 | RNS
201308051

(version 'eb')

2013-08-05
2:40
120
MP3 192 | RNS
Narg 41.0
2013-06-18
Flac | MP3 192 | Ogg | RNS
J'Hopital 1

(version 'ci')

2013-02-17
Flac | MP3 192 | Ogg | RNS
Narg 40.0
2012-10-26
Flac | MP3 192 | Ogg | RNS
Narg 39.0
2012-09-27
Flac | MP3 192 | Ogg | RNS
Conveyor

(version 'ee')

2012-09-12
Ogg | RNS
With You 5.0
2012-03-26
Flac | MP3 192 | Ogg | RNS
Zako

(version 'b')

2012-03-12
Flac | MP3 192 | Ogg | RNS
Newkirk

(version 'ei')

2012-03-01
Flac | MP3 192 | Ogg | RNS
Terraform

(version 'cc')

2012-03-01
Flac | MP3 192 | Ogg | RNS
Laurie 2

(version 'fe')

2012-02-29
Flac | MP3 192 | Ogg | RNS
Swampboat

(version 'df')

2012-02-25
Flac | MP3 192 | Ogg | RNS
Laurie 2

(ej-fx)

2012-02-17
Flac | MP3 128 | MP3 192 | Ogg | RNS
Parkenlorp

(version 'gbb')

2012-02-09
Flac | MP3 192 | Ogg | RNS
Mulker 54.0
2011-01-26
Flac | MP3 128 | MP3 192 | Ogg | RNS
Narg 37.1
2010-12-29
Flac | MP3 128 | MP3 192 | Ogg | RNS
Mulker 52.0
2010-12-24
Flac | MP3 128 | MP3 192 | Ogg | RNS
Mulker 53.0
2010-12-24
Flac | MP3 128 | MP3 192 | Ogg | RNS
Narg 36.4
2010-07-19
Flac | MP3 128 | MP3 192 | Ogg | RNS
Mulker 50.0
2010-07-16
Flac | MP3 128 | MP3 192 | Ogg | RNS
Mulker 51.0
2010-07-16
Flac | MP3 128 | MP3 192 | Ogg | RNS
Narg 36.3
2010-02-21
MP3 128 | MP3 192 | Ogg | RNS
Mulker 49.0
2010-02-08
MP3 128 | MP3 192 | Ogg | RNS
Song Of Day
2009-12-25
MP3 128 | MP3 192 | Ogg | RNS
Winwint 1

(version 'm')

2009-11-01
Flac | MP3 128 | MP3 192 | Ogg | RNS
Narg 35.1
2009-10-30
MP3 128 | MP3 192 | Ogg | RNS
Narg 34.1
2009-04-11
MP3 128 | MP3 192 | Ogg | RNS
Narg 9.6
2009-02-19
11:22
MP3 128 | MP3 192 | Ogg | RNS
Narg 31.1
2009-02-07
1:42
MP3 128 | MP3 192 | Ogg | RNS
Narg 32.1
2009-02-07
3:52
MP3 128 | MP3 192 | Ogg | RNS
Narg 30.0
2009-02-07
2:24
MP3 128 | MP3 192 | Ogg | RNS
Narg 29.1
2009-02-06
7:44
MP3 128 | MP3 192 | Ogg | RNS
zzo1

(version 'f')

2008-06-26
MP3
Mulker 48.2
2008-05-07
Ogg
Mulker 48.1
2008-04-26
MP3 128 | MP3 192 | Ogg | RNS
Mulker 48.0
2008-04-26
7:12
MP3 128 | MP3 192 | Ogg | RNS
Narg 28.0
2008-03-18
MP3 128 | MP3 192 | Ogg | RNS
Narg 21.2
2007-12-21
5:36
MP3 128 | MP3 192 | Ogg | RNS
Narg 27.1
2007-09-06
6:08
Flac | MP3 128 | MP3 192 | Ogg | RNS
Narg 26.0
2007-08-21
4:12
Flac | MP3 128 | MP3 192 | Ogg | RNS
Dance Facory 2006.1
2006-11-13
3:35
Flac | MP3 128 | MP3 192 | Ogg | RNS
Narg 25.1
2006-09-19
4:12
Flac | MP3 128 | MP3 192 | Ogg | RNS
Narg 24.0
2006-09-03
4:02
Flac | MP3 128 | MP3 192 | Ogg | RNS
Narg 23.1
2006-08-11
5:08
Flac | MP3 128 | MP3 192 | Ogg | RNS
Arimanche

(version 'k')

2006-07-30
1:12
Flac | MP3 128 | MP3 192 | Ogg | RNS
Guardian 1.2
2006-07-02
3:20
MP3 192 | Ogg | RNS
Narg 22.2
2006-05-15
7:46
MP3 128 | MP3 192 | Ogg | RNS
Running Back

(version 2)

2006-03-04
3:24
MP3 192 | Ogg | RNS
Mulker 46.2
2005-12-29
4:00
140
MP3 160 | Ogg | RNS
Mulker 44.1
2005-11-29
5:04
120
MP3 160 | Ogg | RNS
Narg 20.0
2005-10-20
3:44
Flac | MP3 160 | MP3 192 | Ogg | RNS
Mulker 43.1
2005-08-14
7:13
133
MP3 160 | Ogg | RNS
2320.0
2005-06-11
4:51
MP3 160 | RNS
Narg 14.2
2005-06-09
7:28
MP3 160 | RNS
Mulker 42.2
2005-04-29
8:56
Flac | MP3 128 | MP3 192 | Ogg | RNS
Perlin 1.0
2005-03-29
4:48
Flac | MP3 192 | Ogg | RNS
Mulker 40.1
2005-03-10
5:06
120
MP3 192 | RNS
Narg 12.0
2005-03-07
MP3 | RNS
Kaleidoscope

(version 'f')

2005-02-23
MP3 160 | RNS
Business Venture

(1.0)

2004-12-16
2:00
120
MP3 | Ogg | RNS
The Cube Song
2004-11-21
4:36
MP3 | Ogg | RNS
Ranger Randy
2004-10-24
4:50
MP3 | Ogg | RNS
You Again

(version 2)

2004-10-02
14:00
120
MP3 | Ogg | RNS
Let's Explore Cells

(version 2)

2004-09-02
MP3 | Ogg | RNS
Mulker 36
2004-08-03
Flac | MP3 | Ogg | RNS
Mulker 35

(beta1)

2004-07-31
MP3 | Ogg | RNS
With You

(version 2)

2004-05-16
MP3 | Ogg | RNS
Narg 5

(beta 3)

2004-01-04
11:14
150
Ogg | RNS
Streamy

(beta 4)

2003-12-26
12:00
MP3 | Ogg
Narg 4

(beta 3)

2003-11-28
11:14
120
MP3 | Ogg | RNS
Monkey
2003-08-22
12:24
120
MP3 | Ogg | RNS
Narg 3
2003-07-08
10:10
120
MP3 | Ogg | RNS
Into Moria 22
2003-07-01
16:24
120
MP3 | Ogg | RNS
Mulker 22
2003-06-16
11:36
120
MP3 | Ogg | RNS
Narg 2
2003-06-07
8:24
130
MP3 | Ogg | RNS
Into Moria
2003-02-01
7:18
120
MP3 | Ogg | RNS
Mulker 15
2002-11-28
7:17
MP3
Mulker 14

(2.1)

2002-11-28
9:08
MP3
Mulker 14.1
2002-10-14
9:25
MP3